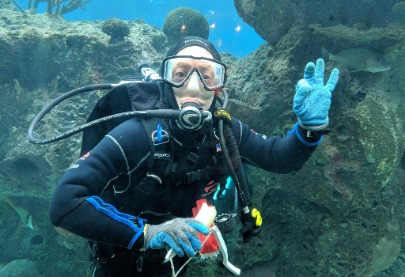 By Scuba Bill
After mask clearing, equalizing your ears is the next most common concern and issue I hear from divers. There are a variety of equalization techniques and you should use the one (or combination of ones) that work for you. Remember equalization is an active process that begins before (yes before!) we ever enter the water. Of course, any concerns with our physical ability to dive should be evaluated by an appropriate medical professional. But aside from some sort of medical issue - Step 1 - driving to the boat or dive location we should equalize a few times to make sure that we are in good ENT health. Most new divers are taught the valsalvo maneuver. Personally, I'm not a huge fan of this technique. I have found that most divers use too much pressure (gentle!) for too long (5 seconds or less). It also doesn't activate the muscles that open the eustachian tubes which means that if you are already under a small amount of pressure, it may not clear your ears. I generally recommend the Toynbee maneuver. One final thought before we move on to step 2, sometimes a hood helps. It may slow the water entering the ear canal and also allow it to warm a bit. Some divers who had trouble, report better success when wearing a hood, especially in chilly water. Personally (as you can see in the attached photo), I always wear a hood as I tend to get cold easier than most. But that is a blog for another day... on to step 2:
Step 2 - as we approach the dive site, before we ever enter the water, we once again confirm that we can equalized.
Step 3 - on the surface and then as we descend (every few feet) actively equalize. Ear drum ruptures and other types of barotrauma can happen in as little as the first 6 fsw. I recommend pinching your nose and swallowing. If this doesn't immediately clear your ears then title your head so that your eustachian tube is stretched toward the surface and try swallowing again. If you are still not able to clear, you must stop your descent and ascend to a depth where you can clear. Repeat these steps throughout your dive to ensure you keep your ears problem free. If this technique doesn't work for you, you should explore other techniques and find the one or combination of techniques that work for you. If none of these work, then consult a physician who is familiar with diving and has ENT expertise. A final word - on ascent, your ears will generally clear on their own. However, if you find yourself in a reverse squeeze, you should descend a few feet, actively clear and attempt ascent again. Remember scuba bill rule #4 - never rush, never hurry.
Here's a list with descriptions (except passive and valsalvo and probably a few others that are out there):
TENSE YOUR THROAT AND PUSH YOUR JAW FORWARD
Tense the muscles of the soft palate and the throat while pushing the jaw forward and down as if starting to yawn. These muscles pull the Eustachian tubes open. This requires a lot of practice, but some divers can learn to control those muscles and hold their tubes open for continuous equalization.
Toynbee Maneuver -

PINCH YOUR NOSE AND SWALLOW
With your nostrils pinched or blocked against your mask skirt, swallow. Swallowing pulls open your Eustachian tubes while the movement of your tongue, with your nose closed, compresses air against them.
Frenzel Maneuver -

PINCH YOUR NOSE AND MAKE THE SOUND OF THE LETTER "K"
Close your nostrils, and close the back of your throat as if straining to lift a weight. Then make the sound of the letter "K." This forces the back of your tongue upward, compressing air against the openings of your Eustachian tubes.
Lowry Technique -

PINCH YOUR NOSE, BLOW AND SWALLOW
A combination of Valsalva and Toynbee: while closing your nostrils, blow and swallow at the same time.
Edmonds Technique -

PINCH YOUR NOSE AND BLOW AND PUSH YOUR JAW FORWARD
While tensing the soft palate (the soft tissue at the back of the roof of your mouth) and throat muscles and pushing the jaw forward and down, do a Valsalva maneuver.