Review of G&G Clearwater Paradise Guanaja
December 17, 2019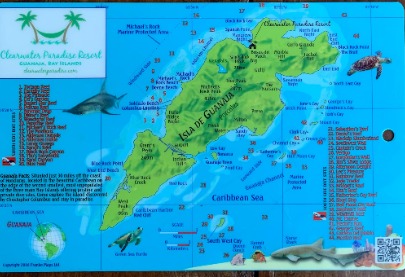 By Scuba Bill
I'm a huge fan of "get off the beaten path" or "take the road less traveled" or something like that ... as well as trying to support small local business. G&G is off the beaten track and is owned and operated by George and Ginger. This review covers the entirety of the experience at G&G including (1) getting there, (2) what diving is like in Guanaja, (3) quality of the G&G dive operation, (4) and being a guest at G&G. The purpose of this post is not to encourage of discourage en mass, but rather to provide enough information that you are able to make a determination for yourself if G&G is a good match for your kind of (dive) vacation.
Getting there – you are going to a small, less populated, bay island in Honduras. So, getting there isn't going to be "easy". However, it isn't going to be "hard" either. It is just going to take a while and you must be prepared and enjoy the journey. For us, we like journeys … we like discovering new places and interacting with new people who may or may not speak our language and know our culture. So … step (1) get to Roatan. We chose to fly to Miami and from Miami to Roatan (and then Roatan to La Ceiba and La Ceiba to Guanaja, whew…). We took a major carrier (American) and getting to Roatan felt like any other trip to a less developed (but popular) dive location. If you've been to Cozumel or Bonaire, or any similar place, Roatan will feel familiar. We arrived on a midweek flight so the Roatan airport was quiet. If you arrive on a weekend, expect much more crowds, noise and general buzz[MP1] . Passing through on a Saturday (10 days later) we experienced the full "excitement" that is a busy/crowded travel day. The journey from Roatan is decidedly less "international dive travel" and more rugged. You are going to be on a local carrier, on a small plane and flying into some small airports. Speaking Spanish is decidedly an advantage, but I made do with my embarrassingly limited capabilities (being humble and apologetic goes a long way in this instances in my experience). There is some talk of the Guanaja dive shops running a ferry type service (it is a couple hours by boat). But that wasn't an option yet. Once arriving in Guanaja, George met us at the airport and we took us (via boat) the 30 minutes or so to the resort, complete with a sunset cocktail on the way.
Diving – One of the major highlights, was that we were often the only divers on the reef. The formations and swim-throughs were beautiful. If you are into smaller creatures, there was plenty of life to keep you occupied (endemic toadfish, nudibranch, bristle worms etc)., especially since there are no other divers chasing them away. However, climate change, overfishing and a severe lionfish invasion has taken its toll on the reefs. We saw an unusually high amount of corral bleaching, and entire patches of reef that were dead and being over-run by algae (it was enough to be depressing). Most larger fish have been fished off the reef, and you'll only see small examples of larger fish (grouper, tuna etc.). A bright spot for reef conservation, is the news of a small section of reef right in front of G&G's being recently designated as a Marine Protected Area (MPA). Hopefully, this will help lead to recovery. Witi, their lead divemaster, is solidly dedicated to the "no take" policy from this area. Unfortunately, someone(s) thought it would be a good idea to hand-feed the resident nurse sharks. This has made them lose all fear of divers and quite to the contrary, they now expecting a meal at each visit. Making them somewhat unpredictable and potentially dangerous.
G&G Dive Operations – depending upon your point of view, being so remote has advantageous and disadvantages. Each dive is customized to the local conditions and the diver's diving skills and desires. Concierge gear service is provided, and we found our gear was setup for us and ready to go. We left the dock when we were ready, and we ended our dives when we ran low on air. They have an air fill station on-site which is capable of gas blending (we dove 32% nitrox our entire trip). However, there are also some compromises attributable to the remoteness of the location. I'd suggest double checking and bringing your own spares for any dive equipment that is very important. If something breaks or is forgotten, G&G will do their best to replace/fix the item and they have a well stocked store room, but be prepared that items can take weeks to come from the mainland by ferry. We dove using our own gear, and didn't have need for rentals or replacements/fixes, however, their gear appeared to be modern and well maintained. The dive boats are well maintained but would not meet USCG standards (no radio, no automated distress beacon, etc.). Similarly, there is only a small first aid kit and there is no oxygen on-board. I did check with DAN and there is a chamber on the island. The tanks appeared to be in good health, however, there was no visual inspection sticker. There is a strict no liquor before diving policy, but less concern with divers diving without dive computers. We found rinsing our gear to be a bit troublesome. There aren't any rinse tubs or outside rinse or shower areas, instead you go into their above ground pool. This is probably fine when the weather is hot & sunny, but during our stay, the pool was cold. I also worried about the chlorine which is generally not recommended for wet suits. I would suggest brining a snorkel, so you can sink underneath the water and avoid the ever-present and very hungry mosquito population. Oh year, bring lots of mosquito repellent.
G&G Resort – rooms were spacious, well apportioned, cleaned daily and the a/c worked awesomely! Hot showers and water pressure were never a problem. There are plenty of power outlets for phones, battery charging, laptops and any other equipment you may need to charge. The bed was very comfortable and well appreciated after dive days! However, if you are noise sensitive, I would suggest bringing earplugs, as most nights the neighbor dogs will bark and the house cats fight. Food was plentiful and George and Ginger made every effort to accommodate any of our requests for adjustments. Ginger would usually go over the next day's menu the day before, giving us an opportunity for any input or special requests. Generally, you will be served "American style" food. We did have a night where we were served delicious local fare (Pollor con Tajadas), made by Jahaida. My wife had opportunity to hunt lion fish, which was filet by our dive master Witi, and prepared into a truly tasty fish taco by the team in the kitchen. Wine, local beer, cocktails and soft drinks were always available (for a very reasonable/modest per drink fee). Additionally, George was willing to transport us (via boat) to the "city" if we wanted to check out the island, or go into town for dinner/lunch. Coffee, tea and water was free and always available. The dining area was spacious with nice views of the ocean. The game room was very well provisioned (pool, foosball, games, cards) with nice views.
One final note, perhaps it was because we were the only guests, however, you should note that George and Ginger live in the same house as where we (the guests) were staying, so it felt much more like being a house-guest in someone's home more than "at a resort". If you will like this or not, depends upon what you are looking for. We made it very clear from the beginning that we wanted them to dine with us and to interact with us. So, we were more like "friends" with both the good and the challenges that "friends" who vacation together experience.